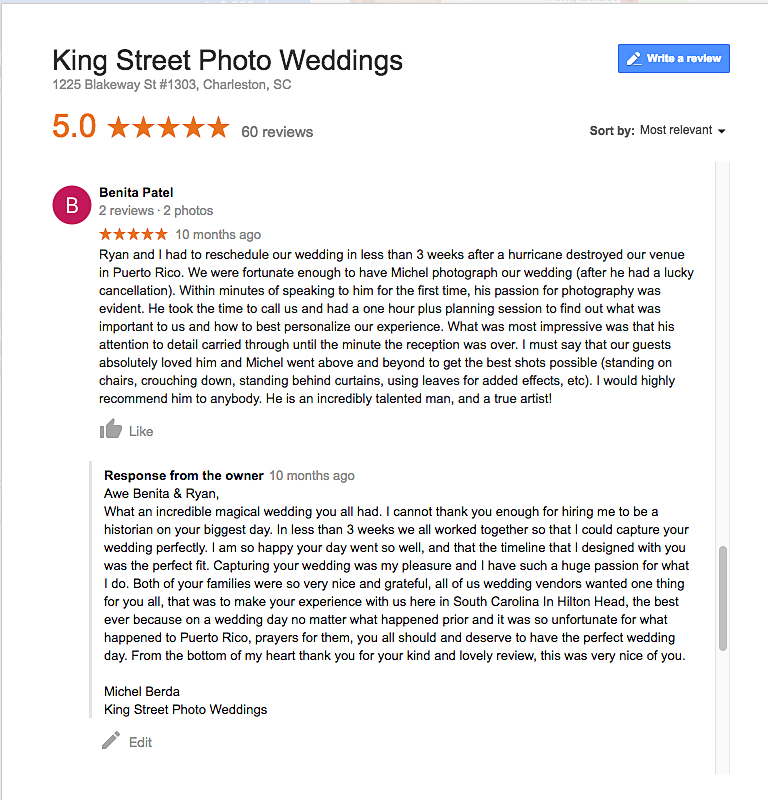 Hilton Head Marriott Resort & Spa. As I start on this beautiful Thursday, on this wedding blog post that is so very special to me, for these very nice clients Benita & Ryan, who went from having their wedding canceled in Puerto Rico, from the devastation of hurricane Maria, and then by having to move and plan their wedding in Beautiful Hilton Head Island, at The Hilton Head Marriott Resort in less than 3 weeks. It was not easy for them, and when I received the wedding photography request through my website, King Street Photo Weddings, from Benita, I was so shocked at to the date requested that claimed only 3 weeks in advance. I then by reply asked this bride if she did not mean the year 2018? She replied no and explained this very unfortunate situation.
Multicultural The Hilton Head Marriott Resort & Spa
Upon our phone conference, I was already excited and thrilled to have this honor to capture their wedding. Benita explained that Ryan and her were creating a multicultural wedding that included the traditional Indian theme such has the Hana and that their family and guest were traveling from all over the US and some from abroad. Many brides do have some favorite wedding photos and they try to imitate them on their wedding day. The point is that every bride and every venue is different and therefore the photos should be unique and spontaneous too! Consider the color of the dress (some of the most popular examples can be found here on the Your Go-To Color Palette for 2018), the amount of light, the background colors and shapes, the proportion of the people and landscape, and all of those details that makes the photo unique and special.
The Wedding Day at The Hilton Head Marriott Resort & Spa
Always organized and having a well designed thorough wedding day timeline and assisted with Design Studio South and the wonderful Alysse Sweeney, we managed to keep the clients very happy about their special day. This lovely couple decided to have a first look that was priceless and well directed, Ryan very similar to me very emotional and yes, it is true good guys cry from their heart, throughout this wedding day the couple and family shared the same emotions that also included excitement, & laughter. The reception at the ballroom directed by Dawn Farrell, head coordinator for The Hilton Head Marriott Resort & Spa was decorated to the nines and was spectacular. The company band got everyone on their feet and having the best time.
Benita & Ryan thank you for giving me such a huge honor to capture this special day, I know my wedding images that I created for you will let you reminisce this day for many generations. I once again thank you so very much and wish you both the best life together you are to me truly a great couple and blend perfect for each other. Enjoy this blog and my amazing art and incredible images for the passion I have for wedding photography that is captured from my heart.
Our Story Written By The Clients

Ryan and I met in September of 2013, just a few days after Ryan's 29th birthday. I had just moved to North Carolina for graduate school. We were both out with some friends when the people we were out with decided got to know each other and thought that Ryan and I would be a good match. They introduced us to each other, and at first, it didn't go so well. I cancelled our first date! Thanks to some convincing by my best friend, I decided to give him a chance and we re-scheduled the date. The rest was history. Ryan told me he loved me 13 days after we met (it took me a little bit longer – but not by much), and on the same night we planned our first vacation together in Seattle and Vancouver. Since then we have been living together, we got a second dog, we have gone on yearly vacations together, we got engaged 2 years after we met, and have planned (and had to re-plan) our wedding. Our initial plans were to get married at a resort in Puerto Rico, but after the disastrous hurricane Maria hit the island (which came through 3 weeks before our wedding date), we had to reschedule. After shedding a few tears, we realized that perspective is key and the people in Puerto Rico had it a lot worse than us. After making sure all our vendors and their families in Puerto Rico were okay, we set out to plan an entire wedding in Hilton Head, South Carolina in less than 3 weeks! We so lucky with our vendors and venue, and the day came and went without a hiccup!Our Hilton Head, SC Wedding Vendors
Our Hilton Head, SC Wedding Vendors
Wedding Venue: Hilton Head Marriott Resort and Spa. Dawn Farrell – dawn.farrell@marriottsales.com: http://www.marriott.com/hotels/travel/hhhgr-hilton-head-marriott-resort-and-spa/
Wedding Coordinator: Design Studio South: Teresa Walker & Alysse Sweeney- alysse@designstudiosouth.com: http://www.designstudiosouth.com
Florist: Kato Floral Designs. Maria Kato -katofloraldesigns@gmail.com: http://katoweddings.com
Bakery: Brown Sugar Custom Cakes. Courtney Glover – info@brownsugarcustomakes.com: http://brownsugarcustomcakes.com
Band: The Company Band. Hanoch Hickman – muzicwiz@hotmail.com: http://www.thecompanybandlive.com
Photographer: King Street Photo Weddings.Michel Berda – kingstphoto1@bellsouth.net :www.kingstreetphotoweddings.com
Hair & Make Up: Style It Salon. Joy Ross (hair) & Denise (make up)– styleitsalon@gmail.com: https://styleitsalon.com
Additional Rentals: EventWorks:Megan Mahoney – saveinfo@eventworksrentals.com: http://www.eventworksrentals.com
Dress: Morilee by Madeline Gardner. Style number 6784 Dress Alterations: Olga's Bridal and Formal Couture :https://www.weddingwire.com/biz/olgas-bridal-and-formal-couture-raleigh/d6da92aca71e2633.html#reviews
Shoes: JC Penney A New Approach:
Invitations: Wedding Paper Divas: