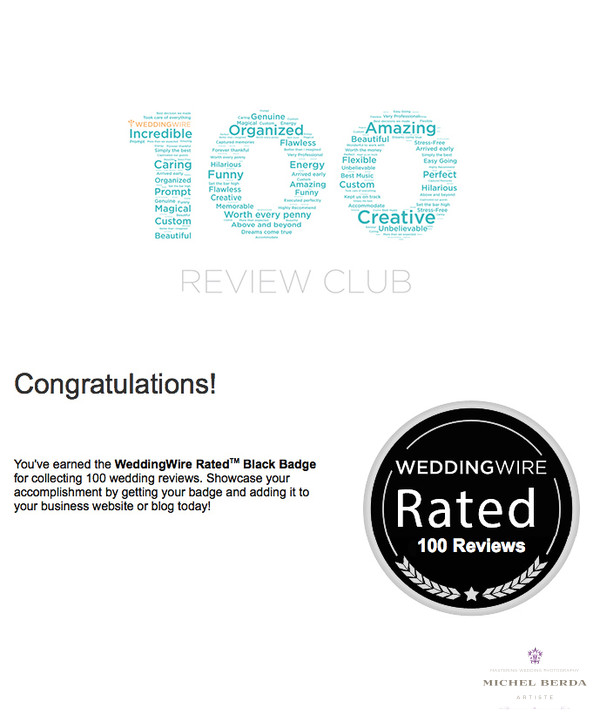 Charleston Wedding Photographer Reviews
We at King Street Photo Weddings are very proud and grateful for our incredible reviews across the platform of the internet. We are the recipient of The Knot best of weddings 2015 and the couple's choice award for 2015, 2016, 2017 and for our impeccable service to all wedding couples with now (105) amazing reviews by the leading wedding industry on Wedding Wire. We also have earned reviews on Google with 59 (5) stars reviews, EventWire with (105) stars reviews, The Knot with 28 (5) stars reviews, Angie"s List business with 48 reviews, and many others. We are honored and known as the most decorated reviewed wedding photographers in Charleston, SC with now more than 345 + reviews across every platform of the web.
We are also so very proud and honored of our newest biggest accomplishment in this wedding industry by receiving more than 100 amazing reviews on Wedding Wire and earning The Black Badge Award, that speaks volume about our wedding photography services (please read below)
King Street Photo Weddings Receives the Elite WeddingWire Rated™ Black Badge For Commitment To Providing Quality and Impeccable Service, And Amazing Wedding Photography.
Charleston, SC – July 8, 2016 – WeddingWire, the nation's leading online wedding marketplace, is pleased to announce that King Street Photo Weddings has reached the prestigious WeddingWire Rated™ Black Level, by earning more than 100 wedding reviews for Wedding Photography in Charleston, SC.
The esteemed WeddingWire Rated™ program recognizes wedding professionals who have received positive newlywed reviews about their business on WeddingWire. Since receiving over 100 wedding reviews, King Street Photo Weddings is now placed at the elite Rated™ Black Level. The program recognizes businesses across more than 20 service categories, from wedding venues to wedding photographers, and requires a minimum of three wedding reviews and an average score of 3.5 stars or higher.
Within the WeddingWire Rated™ program, there are five different levels that wedding professionals can reach based on the number of wedding reviews they receive (Blue, Bronze, Silver, Gold, and Black). The WeddingWire Rated™ Black badge is reserved for a select group of businesses who have received 100 or more newlywed reviews.
As a member of WeddingWire, the world's largest wedding review site with over one million reviews, King Street Photo Weddings advancement to the Rated™ Black Level is considered the ultimate milestone, illustrating the business' commitment to regularly providing quality service to their clients. As a WeddingWire Rated™ Black badge-holder, King Street Photo Weddings has reached the highest level of achievement on WeddingWire.
"To have exceeded 100 clients reviews is a tremendous accomplishment that only a select group of wedding professionals have reached. King Street Photo Weddings in recognized for their impressive work within the wedding industry as indicated by their past clients. This great achievement showcases their strong track record of success and a steadfast commitment to earning positive reviews, each and every year."
From Michel Berda " As a wedding photographer here is Charleston, Sc my wedding photography company has reached my biggest accomplishment and goal in my 16 years in this industry" King Street Photo Weddings is honored, and grateful to all past amazing wedding clients to receive the Rated™ Black badge for Wedding Photography in Charleston, SC. By providing impeccable service, amazing wedding photography, and positive feedback from our clients that is our number one priority, and we would like to thank each and every one of them for taking the time to review our business on WeddingWire. Each review allows future potential clients to see that we are committed to providing excellent service, amazing wedding photography on a consistent and ongoing basis, and we look forward to continued success and capturing artistic and amazing wedding photography for all of our future clients."
For more information about King Street Photo Weddings, please visit WeddingWire at
About WeddingWire, Inc.
WeddingWire®, the nation's leading marketplace serving the $70 billion wedding industry, is the only online wedding planning resource designed to empower both engaged couples and wedding professionals. For engaged couples, WeddingWire offers the ability to search, compare and book over 200,000 reviewed wedding vendors, from wedding venues to wedding photographers. WeddingWire also offers a comprehensive suite of online planning tools for weddings, including wedding websites and wedding checklists, all at no charge. For wedding professionals, WeddingWire is the only all-in-one marketing platform for businesses online and on-the-go. WeddingWire offers one simple solution to build a professional network, improve search visibility, manage social media and reach mobile consumers. Businesses that advertise with WeddingWire appear on WeddingWire.com, ProjectWedding.com and other leading sites, including MarthaStewartWeddings.com, Brides.com and Weddingbee.com.
King Street Photo Wedding Charleston Wedding Photographer Google Reviews:

Michael H: 2 months ago
My fiance attended the Charleston Bridal show this past August and won a free engagement session from Michel (of King Street Photo Weddings). We were pleasantly surprised by how attentive to detail he was, even before going to the photoshoot. He sent a few emails with all of the information about where we'd be meeting in downtown and even asked us to come at 7:23am in order to capture a sunrise photo. We were very happy with how professional and artistic Michel is; we felt that he gives a unique approach to his photography and were very happy with all of the ideas he brought. He is very detail oriented; even down to telling my fiance to fix my pocket square a certain way and taking the time to make sure the light hit us just right in certain photos. We really enjoyed working with Michel and decided to book bridal portraits with him. If we hadn't already signed a contract with another photographer we very likely would have booked him for our wedding! We highly suggest Michel as one of the great Charleston photographers.
Response from the owner 2 months ago. Awe this is awesome Michael. They say that in business and life you give and ask nothing in return. My intention was to fulfill my commitment from the Wedding Festival bridal show and capture you all engagement session. My daughter was so sweet to say please give it to Brittany she seems like such a very nice person. I am glad that this happened for both of you and I am so very glad that you touched on your review about every single details that makes me a perfectionist for my art in being a story teller, and an image maker here in Charleston, Sc. I am grateful that your fiancé was so kind to give me the business and honored to be photographing her bridal portrait. They will be unique and one of a kind, I will make very sure of that. Thank you from the bottom of my heart for this lovely review and all that you both have done for me. Michel
Kurtis Pearce: 3 months ago

Michel is truly a top professional with an amazing eye. My fiancé and I did an engagement shoot with him in downtown Charleston and it was clear he knew what he was doing. We met him downtown at Waterfront Park where he had 2 cameras ready to go as well as lighting equipment, to ensure that the pictures were going to come out great. From there, we walked around the city stopping at numerous spots, all the while he was carrying all of this equipment. As a result, we have a ton of pictures to choose from – some are close up, some are wide angled, and because we got to go around the city, there's a great variety of backgrounds. He spent a whole afternoon with us just to make sure we were happy. I highly recommend Michel as your photographer!
Response from the owner 3 months ago. Awe Thank you Kurtis for taking the time to write this very nice review. I so enjoyed your fiancé Madeleine and that so cute new addition to your family the lovely puppy Sawyer. I am so glad you loved the variety of images that I provided to you all. My goal for every clients is to exceed their expectations. I appreciate this very much, thank you for being great clients and I am excited to create amazing wedding images for you all very soon. Thank you again. Michel
Abi Thompson: 6 months ago

Michel Berda of King Street Photo Weddings is absolutely amazing. I happened to come across him at the Southern Bridal Expo with my mom and briefly saw his work. He is so professional, kind, and extremely hard working. I just took my bridal portraits with him and we spent 4 hours shooting the pictures in various locations. He was so professional and made sure that I was taken care of. He is honest and has the bride's best interest at heart.
Response from the owner A months ago. Awe Abi, So very nice of you to post your review about your incredible bridal portrait I captured here in Our Holy City of Charleston, Sc. I really appreciate your honest and positive review, and I enjoyed your to be bridesmaids, and your mom, we really had a lovely time and thank you once again for giving King Street Photo Weddings this huge honor. I wish you a great day, Michel
Courtney Kneisel: 8 months ago

I first heard of Michel while at the Southern Bridal show with my future mother in law. I came across Michel's beautiful photography and immediately knew I needed to have him as my photographer. I am a 3rd grade teacher, which means it is a struggle to financially afford great photography. I was so desperate that I went to Facebook and other social media outlets asking for best offers. Michel immediately relaxed me and made sure I was in good hands and he would take care of me. Since then Michel has been nothing but amazing.
For our engagement session I sent Michel some photos I came across on Pinterest. Michele was able to listen to me and used my ideas and put them to life. He was even able to work with my extremely hyper 9 month old puppy and included him in our photos. Having Michel be my wedding photographer has been hands down the best decision I have made so far in my wedding process.
Thank you so much Michel for everything you have done and will continue to do for my fiancé and myself. Jake says thank you as well. ;)
Response from the owner 8 months ago. Awe what wonderful clients you both are. Thank you for the lovely review, in today world, everyone is a wedding photographer. Unfortunately, has you found out, most of them are not only weekend warriors but more importantly are not a legal business with proper licensing and liability insurance. I am so glad you did your due diligence & that your parents invested with your choice of the perfect wedding photographer. I am so glad you loved the photos the rustic theme. & the barn was spectacular, I am so glad I got that arranged for you all. Thank you once again for this huge honor and this review, Michel
Alexis Sherman: 11 months ago

Michel is the absolute best! I booked him because I was looking for photos that would make a statement and I received just that. I just viewed the first photo from my bridal shoot and it was far beyond what I imagined. The time and effort he puts into his work is just amazing. I can't wait to view the others. My shoot was definitely an experience my family and I will never forget. I can't wait until the wedding. Do yourself a favor and book him for your wedding or any event for that matter.
Response from the owner 11 months ago
Your amazing Alexis Sherman, what a great client, you are and so very caring. I am so glad that you gave me the honor and privilege to capture this fantastic bridal portrait, I am so glad you brought your mom, and sister and aunt, it gave them a moment they will always cherish. Your kind words are very appreciative and your final bridal portraits are stunning has I always want to think outside the box and create amazing images for all of my clients. I am so looking forward to your wedding and Magical Day. Thank you, thank you. Michel Berda
Donna Welsh: a year ago

Michel came to my daughter's rehearsal (even though we had not contracted for that service) to familiarize himself with the venue. While there, he took some lovely photos. The next day he photographed every detail of their wedding and reception. He took beautiful photos capturing both the solemn and sweet aspects of the ceremony (and its setting) and the joy, delight and pure fun of the Halloween reception. Great value. Great service. Thank you so much for documenting such a beautiful day and magical celebration!
Response from the owner a year ago
Donna, When you are a professional wedding photographer, it is not always about the contract and hours, your heart always wants to do extra, I am so very blessed because of amazing clients like you to capture amazing weddings here in Charleston Sc. I really, really, appreciate your lovely review. Blessed Day, Michel

King Street Photo Weddings Charleston Wedding Photographer Wedding Wire Reviews
5.0 Debbie said... What can possibly be said about Michel Berda that hasn't already been said!? Michel "took my hand" from the first moment we spoke on the phone and made the process of getting ready for the big day wonderful. He listened and advised and listened more. We are an older couple whose photography needs were not that of a younger couple. Michel worked with us to until he came up with the perfect package and then he really delivered! Michel made having your picture made a natural event. He lead us through each picture making it enjoyable and looking forward to the next one. Our guests could not have been more complementary of Michel. The photography was incredible as is Michel! We both feel blessed to have had Michel record our wedding day in such a spectacular way!
King Street Photo Weddings responded with the following comments:
Awe Debbie & Kevin, Thank you so much for having King Street Photo Weddings be part of your magical day. I have been capturing weddings in our holy city of Charleston, South Carolina, for over 17 years. I am so blessed to have had the opportunity of meeting all types of wonderful clients just like you both. I strive to make every wedding client feel comfortable, by designing the perfect photography timeline, and making very sure I never miss a perfect photo. After all, that is what I am supposed to do, and I find comfort in doing this. I am honored, appreciative, and very thankful for you all. Many thanks for taking your time to post this honest review. I wish you both the best life, and can only hope we will stay in touch. Blessings Michel Berda
Wedding: 12/10/2016
Services Used: Photography
Reviewed On: 12/30/2016

5.0 Carla said... I don't event know where to begin. The second I saw Michel Berda's photos I knew he was the one! I booked Michel without seeing another photographer and it was the #1 best decision I made planning my wedding this December. Just when I thought he could not surpass our expectations, hopes and dreams for a wedding photographer any further; he continued to surprise and delight with his professionalism, creativity, thoughtfulness, and knowledge. I talked to Michel more than any other wedding vendor throughout the process and he really knows how to make you feel comfortable about the process and the day. I have to say Michel actually makes taking photos fun! He had lots of competition from amateur wedding guest taking photos as well. ?? I consider myself not photogenic until I started working with Michel; he really works his magic and can give just the right direction to make all the difference. I highly recommend hiring Michel and his team for any engagement, I guarantee he will impress. You must take a look at his site- his works speaks for itself!
King Street Photo Weddings responded with the following comments:
King Street Photo Weddings responded with the following comments:
Awe Carla & D.Tyrell,What a blessing it is to be an image maker, capture amazing weddings, and have the most fantastic clients like you all. Your wedding at THE WESTIN HILTON HEAD ISLAND RESORT & SPA was truly unique in the decor and the design. From the ceremony at the Oceanfront Deck to the reception at the Mitchelville room. You both are a wonderful couple and I am very grateful for letting me capture such a special moment in your life. Thank you once again for taking the time to post this review about our services and for having King Street Photo Weddings record and capture your magical day. I wish you all the best life together. God Bless.
Wedding: 12/12/2016
Services Used: Photography
Reviewed On: 12/19/2016
5.0 Michelle said... We had our wedding at the Westin Resort & Spa on Hilton Head Island, who recommended Michel Berda as a photographer. Upon sending a message, he immediately reached out to us and explained his services. He sells himself big and aims to please. Michel genuinely wants to get to know you and what you want for your special occasion so that he can make it perfect for you. I gave him 5 stars for each category - quality of service, responsiveness, professionalism, value and flexibility. Michel was really willing to go the extra mile for us. He is professional, charismatic, energetic and has a sense of humor which we needed since we aren't a photo-loving couple! Thank you Michel for working with us.
King Street Photo Weddings responded with the following comments:
What a wonderful way for me to have a great Sunday, by receiving your amazing review today Michel, & Michael. What a great Italian family you all are. I really appreciate this lovely review, more importantly the trust you all gave me to capture your special day. I am so glad I was able to design a wedding photography timeline for you all and that I was able to create wedding image you all can cherish for many years to come. Once again from the bottom of my heart, thank you for trusting me to be your wedding photographer for your wedding at The beautiful Westin Resort & Spa in Hilton Head Island South Carolina.
Wedding: 10/28/2016
Services Used: Photography
Reviewed On: 12/04/2016
5.0 Mark said... Michel was one of the best decisions we made during our pre-wedding planning. Of the many photography inquires made, he was the first and most enthusiastic response. He was extremely professional from our first meeting all the way through the end of our big day. Based on his photos, he seems to have been everywhere even though we rarely saw him at work. We were also pleased with the unique "rose" and "Love" shots and appreciated the creativity he brought to our ceremony and reception. You will not be disappointed having Michel memorialize your event which passes much too quickly. Thankfully we have some amazing photos that give us a perspective outside of the wedding day blur.
King Street Photo Weddings responded with the following comments:
Joanne & Mark,Wow, thank you so very much. Today, I have accomplished my biggest success in my wedding photography career and you made it that much better by making it 100 amazing reviews from all of you fantastic caring clients. Your wedding day at your private residence in HHI was spectacular, with a Low Country wedding charm, having your ceremony at the beach and then having Palmetto Dunes cater your event was perfect. Your close family and friends really enjoyed the wedding in what I consider to be a mansion.
Thank you, thank you, so very much your review will never be forgotten it really has made my heart happy. All I ever want for my clients in this continuous happiness of making the right investment and decision for a wedding photographer to do their very best and always going above and beyond the clients needs.
My very best and God bless,
Michel
Wedding: 7/2/2016
Services Used: Photography
Reviewed On: 7//7//2016
5.0 Lindsie said... We booked Michel over a year in advance and our wedding was just this past week, on 6/18/2016. We had an amazing experience from start to finish. He was always available for our random questions, provided us with endless helpful recommendations, and did so much more than I ever would have expected a photographer to do. He helped us make a precise schedule for the day of the wedding and ensured us that he would take care of all of the little details (and the crazy personalities in our bridal party!). We have only seen sneak peaks of our photos but I am sure that they will be amazing. Big thanks again Michel! I would highly recommend him to anyone looking for a professional (and FUN!) photographer who clearly has his profession down to a science.
King Street Photo Weddings responded with the following comments:
Aww, what a great review. Thank you so much Lindsie & Jeremy, you all are such fantastic caring clients. Your wedding day turned out perfect the images are spectacular. You both are full of energy, your family and you all always caring about me that I kept on being hydrated because it was so hot about 98 degrees. It was nice to see that Jeremy enjoys working out has much as I do and that is one of the main reason I stay in shape. Having 3 cameras and various lenses on me for about a minimum of 6 to 8 hrs, a total of 60 pounds of gear, along with extra batteries and anything I need immediately can be very heavy at times. My wedding photography and having the proper lens and equipment at that specific time is why I carry it all.
Thank you so very much for the business, honor and trust, I am always very appreciative.
Michel Berda
Wedding: 6//18/2016
Services Used: Photography
Reviewed On: 6/26/2016
5.0 Shelley said...Michel Berda of www.kingstreeetphotoweddings.com exceeded our expectations as our wedding photographer! Our wedding was just three days ago and I have already had the opportunity to see a couple of "sneak peak" photos. With only two photos, I am confident in writing this review that I will absolutely love the rest. They were that amazing! There were quite a few things that went wrong on our wedding day with our venue, but Michel worked through everything and went above and beyond to capture wonderful photos. He literally traveled all through Palmetto Dunes to make sure we had the photos we wanted. I thought that having a very large wedding party (9 bridesmaids, 9 groomsmen, 5 kids) would scare photographers away, but when I first talked to Michel, he was excited to work with such a large group. He was very friendly, personable, and made wedding photos fun (even for all of those guys!). I would highly recommend King Street Photography to anyone.
Michel, you helped make our wedding day special and will give us photos that will never let us forget that. Thank you, Thank you, Thank you for everything you did that day! We look forward to seeing the rest of our day! :)
Shelley and Kevin Kustes
6/3/16 Palmetto Dunes, Hilton Head
King Street Photo Weddings responded with the following comments:
Wow, Shelley & Kevin, you all traveled all the way from Kentucky, to have the perfect wedding. I am always more than happy to do anything I can to make sure that when clients have a destination wedding here in our lovely State Of South Carolina, they receive just that. Yes, I helped you all with the perfect timeline and yes there were many locations to travel to and from, and lovely children and great bridal party and the perfect best man & maid of honor who helped so much, please thank them. My goal was to create what you all invested in a wedding photographer that would meet and exceed your expectation. Reading this review actually gave me tears, because I am so glad that you felt that way. just exactly what I wanted for you all. God bless you both and thank you once again for posting this honest and truthful review from your heart. I am and will always be grateful to you both.
Wedding: 6/3/2016
Services Used: Photography
Reviewed On: 6/6/2016
5.0 Daniel said...Finding the right photographer is both intimidating and challenging. I am so grateful that we followed our intuitions after seeing the work and speaking with Michel Berda, Of kingstreetphotoweddings.com. I still remember the first conversation with him and the professionalism and passion he has wedding photography. He is professional by setting expectations for the event to help his capture as many wonderful moments as possible. He helped my wife create a wedding timeline and set any expectations for photos beforehand. He stayed in contact with us which helped ease our stress level before the big day. He showed up to the venue nearly 2 hours ahead of schedule to Capture all the priceless moments from our big day. My family all enjoyed his presence at the venue and love his work and professionalism. They all can't stop raving about how wonderful he was. We can't speak enough great words about Michel Berda and his passion for wedding photography. He went above and beyond when the weather wasn't cooperating and exceeded our expectations! He even provided us with a teaser photo within 24hours! I would strongly encourage you to check out his work if you are looking to capture beautiful pictures of your special day! Michel is a caring, trustworthy, professional, enthusiastic artist that will provide you with an above and beyond experience!!
King Street Photo Weddings responded with the following comments:
Awe Kari & Daniel, I always say this to all that future wedding vendors that always ask me about why I receive so many and such lovely, honest, and always grateful wedding clients reviews. I tell them it is very simple if you follow these rules "Give your clients your 1000% percent, respect your clients and listen to every needs they have, give them the confidence and your experience and helpful tips to make their day that much more special, and last, be always very thankful to them for the business and the honor they give you to capture one of the most important days of their lives"
I am very touched and humbled to have you post this review for me. You are truly beautiful people inside and out. Thank you for everything.
Wedding: 5//20/2016
Services Used: Photography
Reviewed On: 5/29/2016
King Street Photo Weddings Charleston Wedding Photographer Yelp Review
Yelp Review Left On 5/12/2014
This was one of the few times that i didn't check yelp before I ate somewhere or bought a service. However, while I usually find myself regretting that decision, in this case I am very glad we didn't look on here beforehand. I have read all the reviews now and to be completely honest, most of them sound 31 flavors of crazy.

Here is the criteria that we based our rating on when deciding between 4 or 5 stars. We looked for beautiful pictures, responsiveness (email and by phone as well as pre and post wedding), meet promises, cost, and overall attitude at the wedding. We did not judge his handwriting or grammar.

Overall Michel was very easy to deal with. Yes he is going to demand stuff from you like, who you want in photos. He also is going to set a time schedule for you and where and when he needs everyone at which place. Trust us, you will need/want that on your wedding day because you only have him for so long, it's in your best interest. Michel does an amazing job of keeping things on schedule and gathering up even your rowdy groomsman.

Everyone seemed to complain about how long it takes to get the photos back on here. He set expectations from before we even cut him the first check. We knew what time frame to expect everything and thus far he has met or exceeded his original estimates. I have a feeling the friendlier you are with him, the more willing he is to get your beautiful photos to you quicker.

In the end, ultimately it is all about the photos and he truly takes some gorgeous shots. We looked at a lot of different photographers and to be honest, his looked 10 times better than anyone else's and we would absolutely book him again.
Alex J, 29464 Categories: Photography
Wedding Planning Services Performed: Yes* More Weight is given to a review where work has been completed.Work Completed Date: March 01, 2015
Hire Again: Yes. Description Of Work: Engagement and Wedding photos. Photo Editing. Wedding schedule planning. Guidance on day-of time management.Member
Comments: Michel is a professional at his craft and loves the work he does. He is very friendly, very organized, followed up regularly, took charge of coordinating with vendors, and most importantly guided & led us to stay on schedule. THIS IS SO, SO, SO, IMPORTANT. We did not realize how much minutes matter, especially in a late afternoon wedding (when the entire wedding only lasts a few hours...). You are pulled in every direction, and trying to greet both family and close friends, and the time simply disappears. Michel prepped us for this, prepared a meticulous schedule & list for photos, and stuck to it. I think that if we had a photographer who was more casual, we would not have gotten half the great photos we did (with the sun setting so fast). Also, on the wedding day, we received countless compliments about how Michel 'obviously knew what he was doing,' guiding the wedding party into poses that were both creative and memorable. We learned (through prior experience) that everyone 'can be a photographer," so be careful. Just b/c they have a camera Doesn't make them a photographer - especially for your special event. Photography really is Mr. Berda's passion, and his quality product reflects that. He is also fairly structured, so if you want loosey goosey, make sure to discuss that on the front end. For us, that structure gave us fantastic results. Would use him again, and would recommend to friends/family. (Oh, and we had some craazy family--He was great & very patient with them all!) Love the photos!
Share on Band of Neighbors: Yes
Company Response: Wow, Just you all giving me the honor and pleasure to capture the engagement and your wedding for you all was really appreciated. Having this review from you and describing me as a wedding photographer in Charleston, South Carolina, that give every clients his 1000% is even more appreciated. Thank you for being such great clients, and now friends. I am so thankful for you all.
My Very Best Always,

Michel