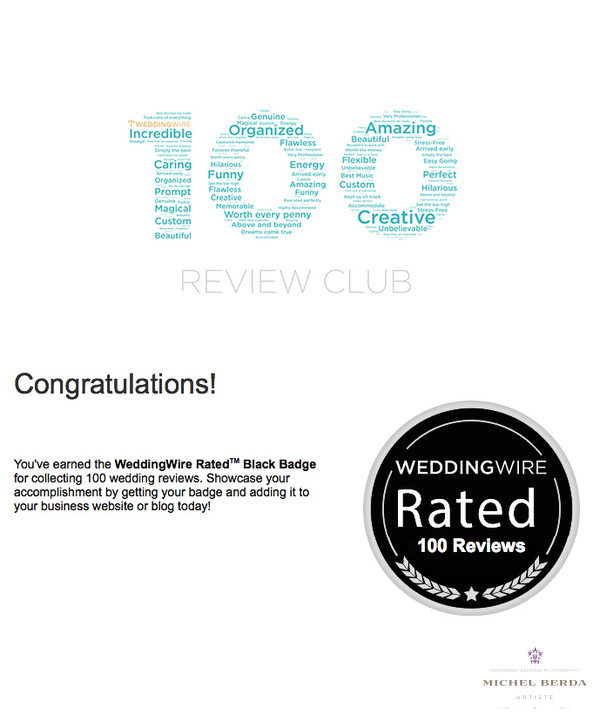 Charleston Wedding Photographer Reviews
We at King Street Photo Weddings are very proud and grateful for our incredible reviews across the platform of the internet. We are the recipient of The Knot best of weddings 2015 and the couple's choice award for 2015, 2016, 2017 and for our impeccable service to all wedding couples with now (109) amazing reviews by the leading wedding industry on Wedding Wire. We also have earned reviews on Google with 69 (5) stars reviews, EventWire with (109) stars reviews, The Knot with 38 (5) stars reviews, Angie"s List business with 48 reviews, and many others. We are honored and known as the most decorated reviewed wedding photographers in Charleston, SC with now more than 345 + reviews across every platform of the web.
We are also so very proud and honored of our newest biggest accomplishment in this wedding industry by receiving more than 100 amazing reviews on Wedding Wire and earning The Black Badge Award, that speaks volume about our wedding photography services (please read below)
King Street Photo Weddings Receives the Elite WeddingWire Rated™ Black Badge For Commitment To Providing Quality and Impeccable Service, And Amazing Wedding Photography.
Charleston, SC – July 8, 2016 – WeddingWire, the nation's leading online wedding marketplace, is pleased to announce that King Street Photo Weddings has reached the prestigious WeddingWire Rated™ Black Level, by earning more than 100 wedding reviews for Wedding Photography in Charleston, SC.
The esteemed WeddingWire Rated™ program recognizes wedding professionals who have received positive newlywed reviews about their business on WeddingWire. Since receiving over 100 wedding reviews, King Street Photo Weddings is now placed at the elite Rated™ Black Level. The program recognizes businesses across more than 20 service categories, from wedding venues to wedding photographers, and requires a minimum of three wedding reviews and an average score of 3.5 stars or higher.
Within the WeddingWire Rated™ program, there are five different levels that wedding professionals can reach based on the number of wedding reviews they receive (Blue, Bronze, Silver, Gold, and Black). The WeddingWire Rated™ Black badge is reserved for a select group of businesses who have received 100 or more newlywed reviews.
As a member of WeddingWire, the world's largest wedding review site with over one million reviews, King Street Photo Weddings advancement to the Rated™ Black Level is considered the ultimate milestone, illustrating the business' commitment to regularly providing quality service to their clients. As a WeddingWire Rated™ Black badge-holder, King Street Photo Weddings has reached the highest level of achievement on WeddingWire.
"To have exceeded 100 clients reviews is a tremendous accomplishment that only a select group of wedding professionals have reached. King Street Photo Weddings in recognized for their impressive work within the wedding industry as indicated by their past clients. This great achievement showcases their strong track record of success and a steadfast commitment to earning positive reviews, each and every year."
From Michel Berda " As a wedding photographer here is Charleston, Sc my wedding photography company has reached my biggest accomplishment and goal in my 16 years in this industry" King Street Photo Weddings is honored, and grateful to all past amazing wedding clients to receive the Rated™ Black badge for Wedding Photography in Charleston, SC. By providing impeccable service, amazing wedding photography, and positive feedback from our clients that is our number one priority, and we would like to thank each and every one of them for taking the time to review our business on WeddingWire. Each review allows future potential clients to see that we are committed to providing excellent service, amazing wedding photography on a consistent and ongoing basis, and we look forward to continued success and capturing artistic and amazing wedding photography for all of our future clients."
For more information about King Street Photo Weddings, please visit WeddingWire at
About WeddingWire, Inc.
WeddingWire®, the nation's leading marketplace serving the $70 billion wedding industry, is the only online wedding planning resource designed to empower both engaged couples and wedding professionals. For engaged couples, WeddingWire offers the ability to search, compare and book over 200,000 reviewed wedding vendors, from wedding venues to wedding photographers. WeddingWire also offers a comprehensive suite of online planning tools for weddings, including wedding websites and wedding checklists, all at no charge. For wedding professionals, WeddingWire is the only all-in-one marketing platform for businesses online and on-the-go. WeddingWire offers one simple solution to build a professional network, improve search visibility, manage social media and reach mobile consumers. Businesses that advertise with WeddingWire appear on WeddingWire.com, ProjectWedding.com and other leading sites, including MarthaStewartWeddings.com, Brides.com and Weddingbee.com.
King Street Photo Wedding Charleston Wedding Photographer Google Reviews:
4.9***** (69) Google reviews
Matt Sorrell a month ago
5 ***** Michel was very professional and arrived to the ceremony before I even did! Being an outdoor wedding, we really wanted to capture sunset pictures, and Michel was efficient with his time and made sure to understand what was needed done to capture the sunset's Magic Hour. Our pictures came out amazing and really showed Michel's passion and knowledge of his craft. I would recommend him!

Response from the owner a month ago
Thank you so much, Matt. This review coming from a fellow artist in the film industry means a lot to me. I am so happy for you and Emily, and all of the reasons that you chose me to capture your special day. We both know that in our industry there are many like us. What differentiates us from others is the passion and business knowledge we have to show all clients we truly care. Yes showing up at your wedding 1.5 hours before I needed to is all part of me. I am so glad you all loved the wedding images I captured for you all. Once again thank you so very much for everything.
Nate Lehn 9/7/2017
5 ***** It was an absolute honor to have Michel Berda of King Street Photo Weddings capture our engagement as it happened. From start to finish the service was impeccable. We came in from out of town and I surprised my fiancé along the waterfront. Unfamiliar with the area, Michel assisted me in choosing the perfect spot for the big surprise. If ever there was a question, he was quick to respond. Questions ranging from the best places to shoot, what time of the day, and even things he recommended to do around town. We shared close to a dozen emails, and countless texts and phone calls to make sure that everything was perfect. His passion for photography is quite evident not just in his work, but in his personality. He ensured that every moment of this day went off without a hitch. His expertise definitely helped me to remain calm during such an exciting time. Not only did I book him for the surprise itself, but we also spent over an hour after the initial engagement taking picture throughout the park. He spent the time to get to know us and captured us beautifully. His bubbly personality had us smiling and laughing throughout the shoot. Very creative and caring, all the while giving us stunning photos of the big day. We cannot thank you enough for everything you did to help ensure that this day went perfectly. I would recommend Michel Berda to anyone coming into the Charleston area. If we end up back in town for a wedding, rest assured that we'll be calling to book him again. Thank you again!
Response from the owner; 9/8/2017
Wow Wow Wow, Nate & Lauren, this was all of my pleasure, and I know Nate, that this proposal was huge and very special for you both. I applaud you for being so organized and I am very glad you gave King Street Photo Weddings me Michel Berda the trust and honor to capture this incredible moment for you both. I know how important it is to have the trust when you hire a photographer that you have never met before not only to capture it but to give you some great advice as well. I am so glad all went well in the many months of planning. I am deeply appreciative of your fantastic review. I hope we meet again and that I get to capture this fantastic wedding.
Jeannette DeLuca 8/27/2017
5 ***** We hired Michel for our July 3, Hilton Head wedding, a year in advance. Being from out of state, We were a little nervous to hire someone we had never met; but boy were we happy! From day 1, Michel created a timeline (which we revised 4 times before the wedding) in order to capture every moment of our weddinnf. The amount of photos taken was unbelievable. Michel took some of the best sunset photos I have ever seen! We could not be happier with the results.
Response from the owner; 8/27/2017
Well, this is such a pleasure and a very big honor from you Jeannette, to leave such a very nice reviews. I appreciate your honesty and for giving me the pleasure to capture your special day. I agree that leading up to the ceremony with all of that rain my heart was pounding because all I wanted to you both was to give you amazing wedding photography. I agree that you both were so very nice to go back out to get the incredible sunset photos I was able to capture.

All & all thank you and that is always my goal for every wedding clients to give them my very best and amazing wedding photography.

I am grateful for your review. thank you,

Michel Berda
Lindsay Gutta 7/26/2017
5 ***** Michel Berda of King Street Wedding Photos was a pleasure to work with at my wedding! He was so active and captured every moment. He folllowed his thorough timeline and made sure to capture one of a kind creative images for us. I would recommend him to everyone in the Charleston/ Hilton Head/ Savannah Area!
Response from the owner; 7/26/2017
Awe Lindsay & Zach,

Thank you so very much for first giving me the honor and privilege to capture your wedding. Thanks to Ashlee, for recommending me to you from The Westin Hilton Head Island Resort & Spa. Your wedding venue was simply amazing, from the ceremony on the deck with the cool breeze blue sky palm trees, great family and friends. Then I loved their new The Grand Ocean Terrace for your reception simply 5 stars.

What I loved the most is that I had the endless possibility with so many great locations at this resort to capture and create amazing wedding images for you both. I also loved meeting both of your great family and friends, I appreciate everyone being so very nice and complimentary to me. That sparkler photo is one of my Instagram most liked wedding photos by my followers and I am so glad I captured that for you all. You all are amazing great wedding clients.

Again many thanks and I really appreciate your honest heartfelt review.

Michel Berda
King Street Photo Weddings
Julie Powell 7/14/2017
5 ***** We hired Michel for our wedding in Charleston, SC. His passion and love for what he does shines bright from the very first encounter you have with him. He is very detail oriented and meticulous about how he does things. The goal he has for your wedding day is perfection and his work is reflective of that. His energy and drive for a great final product is shown as he captures every possible picture. I truly feel by looking through my pictures I am reliving my storybook day again. Thank you Michel for your hard work and wonderful product. If you like a hard working and meticulous photographer you need to get this guy!
Response from the owner; 7/14/2017
Awe Julie,
What a beautiful person and great heart you have. Thank you, thank you. I love being able to be
honored to capture every wedding. You clearly touched on my commitment to every client by having a passion, and while being detail oriented, my goal, and giving my clients impeccable service and amazing wedding image.

I really appreciate you taking your time to post this incredible review. Many thanks again.

Michel
Michelle Clagg 6/7/2017
5 ***** Michel is not only an amazing photographer but a genuinely caring person. He spent so much time getting to know us and what pictures we wanted as well as designing a perfect timeline. We never even had the opportunity to meet him face to face due to the distance involved in planning a destination wedding for my daughter. Myself and my husband in Canton, OH my daughter and fiancé in Sarasota FL, the venue in Hilton Head , SC and Michel in Carleston, SC. I interviewed him initially over the phone (asking many many questions). Of which he had the answers for everything. I called other photographers as well and gave my daughter the choice. After researching and looking at his photos on his website, there was no doubt that he was more than just your ordinary photographer. You could tell his photos told a story and he was a true artistic photographer. So far he has not disappointed in the delivery of some amazing photos for just a sneak peak. I know the rest of the photos will be absolutely gorgeous and am anxiously waiting to see the others. Michel along with his second shooter and videographer will give you 110 percent for the entire length of your wedding. He will not disappoint!
Response from the owner; 6/7/2017
Mrs. Clagg,

We were so fortunate to have the honor and privilege to capture your daughter Stacie & Shawn wedding. Thank you so much for touching on some very good points about our services and our unique style of wedding photography. More importantly, we are very grateful that you all gave us such a fantastic wedding that we were so happy to capture.

Our branding and goal are exactly what you describe we are wedding photographers like no other, we aim to go above and beyond in our services for every single client, we live for capturing every single wedding with our hearts, being storyteller and giving client wedding images that they will cherish forever.

Thank you so much for everything and this really beautiful review.

Michel Berda,
for King Street Photo Weddings.
Ethan Milsaps 5/18/2017
5 ***** Working with Michel was an absolutely perfect experience. As a customer oriented business person, Michel's work is impeccable. He is exceptionally detail oriented and organized, making sure every aspect of our wedding photos were executed perfectly and precisely. And yet he was still very flexible, and made sure my wife and I were getting exactly what we wanted out of our day. His focus on customer satisfaction is rivaled by none. Now as a photographer, Michel is hands down the best in town. His spontaneity and creativity as a photographer was a wonderful compliment to his sheer professionalism, and as someone who does not like getting their picture taken I can honestly say that I had a great time being photographed by him. He has a great way of making you feel relaxed and comfortable in front of his lens, which is something my wife and I certainly appreciated. All in all, the day was picture perfect (pun intended). Michel could not have been ay more superb to work with and we are ecstatic with how well he has captured our wedding day in full. I simply can not recommend Michel and his services enough!
Response from the owner; 5/18//2017
Amy & Ethan, I am so glad you all had such a fantastic wedding, and that I was honored to be your selected wedding photographer for your special day. Having a destination wedding can be challenging in the logistic of planning everything. I always extend my professional advice with over 500 plus weddings I have been blessed to have captured. I am glad that you all loved the timeline that we worked together on and that it was executed perfectly. Thank you, thank you for writing such a heartfelt and honest review about my goal in providing every single client impeccable service and amazing wedding photography. I am very grateful for your review and thank you from the bottom of my heart. Michel Berda, King Street Photo Weddings.
King Street Photo Weddings Charleston Wedding Photographer Wedding Wire Reviews
4.9 ***** (109) Wedding Wire Reviews:

5.0 Benita,said... Ryan and I had to reschedule our wedding in less than 3 weeks after a hurricane destroyed our venue in Puerto Rico. We were fortunate enough to have Michel photograph our wedding (after he had a lucky cancellation). Within minutes of speaking to him for the first time, his passion for photography was evident. He took the time to call us and had a one hour plus planning session to find out what was important to us and how to best personalize our experience. What was most impressive was that his attention to detail carried through until the minute the reception was over. I must say that our guests absolutely loved him and Michel went above and beyond to get the best shots possible (standing on chairs, crouching down, standing behind curtains, using leaves for added effects, etc). I would highly recommend him to anybody. He is an incredibly talented man, and a true artist!
Just to give you an idea of what his work looks like, here is the teaser photo we received 2 days after our wedding. We are beyond excited to see the rest!
Wedding: 10/14/2017
Services Used: Photography
Reviewed On: 10/27/2017
5.0 Shawn,said...Michel Berda photographed our May 20th wedding at the Sonesta Resort in HHI, and as someone who does not often leave online reviews I feel our experience with Michel deserves one! We had several calls with Michel prior to the wedding to discuss the day and the schedule of events. From the first phone call, we could tell that he was going to be fantastic. We knew he would capture every moment of our big day in the best way possible, and that's exactly what he did. We're blown away by the images, and forever get to relive our wedding day with our amazing photos. If you want the best, this is the photographer to choose. You will not be let down by Michel!
Wedding: 5/20/2017
Services Used: Photography
Reviewed On: 7/14/2017
5.0 Debbie said... What can possibly be said about Michel Berda that hasn't already been said!? Michel "took my hand" from the first moment we spoke on the phone and made the process of getting ready for the big day wonderful. He listened and advised and listened more. We are an older couple whose photography needs were not that of a younger couple. Michel worked with us to until he came up with the perfect package and then he really delivered! Michel made having your picture made a natural event. He lead us through each picture making it enjoyable and looking forward to the next one. Our guests could not have been more complementary of Michel. The photography was incredible as is Michel! We both feel blessed to have had Michel record our wedding day in such a spectacular way!
King Street Photo Weddings responded with the following comments:
Awe Debbie & Kevin, Thank you so much for having King Street Photo Weddings be part of your magical day. I have been capturing weddings in our holy city of Charleston, South Carolina, for over 17 years. I am so blessed to have had the opportunity of meeting all types of wonderful clients just like you both. I strive to make every wedding client feel comfortable, by designing the perfect photography timeline, and making very sure I never miss a perfect photo. After all, that is what I am supposed to do, and I find comfort in doing this. I am honored, appreciative, and very thankful for you all. Many thanks for taking your time to post this honest review. I wish you both the best life, and can only hope we will stay in touch. Blessings Michel Berda

Wedding: 12/10/2016
Services Used: Photography
Reviewed On: 12/30/2016
5.0 Carla said... I don't event know where to begin. The second I saw Michel Berda's photos I knew he was the one! I booked Michel without seeing another photographer and it was the #1 best decision I made planning my wedding this December. Just when I thought he could not surpass our expectations, hopes and dreams for a wedding photographer any further; he continued to surprise and delight with his professionalism, creativity, thoughtfulness, and knowledge. I talked to Michel more than any other wedding vendor throughout the process and he really knows how to make you feel comfortable about the process and the day. I have to say Michel actually makes taking photos fun! He had lots of competition from amateur wedding guest taking photos as well. ?? I consider myself not photogenic until I started working with Michel; he really works his magic and can give just the right direction to make all the difference. I highly recommend hiring Michel and his team for any engagement, I guarantee he will impress. You must take a look at his site- his works speaks for itself!
King Street Photo Weddings responded with the following comments:
King Street Photo Weddings responded with the following comments:
Awe Carla & D.Tyrell,What a blessing it is to be an image maker, capture amazing weddings, and have the most fantastic clients like you all. Your wedding at THE WESTIN HILTON HEAD ISLAND RESORT & SPA was truly unique in the decor and the design. From the ceremony at the Oceanfront Deck to the reception at the Mitchelville room. You both are a wonderful couple and I am very grateful for letting me capture such a special moment in your life. Thank you once again for taking the time to post this review about our services and for having King Street Photo Weddings record and capture your magical day. I wish you all the best life together. God Bless.
Wedding: 12/12/2016
Services Used: Photography
Reviewed On: 12/19/2016
5.0 Michelle said... We had our wedding at the Westin Resort & Spa on Hilton Head Island, who recommended Michel Berda as a photographer. Upon sending a message, he immediately reached out to us and explained his services. He sells himself big and aims to please. Michel genuinely wants to get to know you and what you want for your special occasion so that he can make it perfect for you. I gave him 5 stars for each category - quality of service, responsiveness, professionalism, value and flexibility. Michel was really willing to go the extra mile for us. He is professional, charismatic, energetic and has a sense of humor which we needed since we aren't a photo-loving couple! Thank you Michel for working with us.
King Street Photo Weddings responded with the following comments:
What a wonderful way for me to have a great Sunday, by receiving your amazing review today Michel, & Michael. What a great Italian family you all are. I really appreciate this lovely review, more importantly the trust you all gave me to capture your special day. I am so glad I was able to design a wedding photography timeline for you all and that I was able to create wedding image you all can cherish for many years to come. Once again from the bottom of my heart, thank you for trusting me to be your wedding photographer for your wedding at The beautiful Westin Resort & Spa in Hilton Head Island South Carolina.
Wedding: 10/28/2016
Services Used: Photography
Reviewed On: 12/04/2016
5.0 Mark said... Michel was one of the best decisions we made during our pre-wedding planning. Of the many photography inquires made, he was the first and most enthusiastic response. He was extremely professional from our first meeting all the way through the end of our big day. Based on his photos, he seems to have been everywhere even though we rarely saw him at work. We were also pleased with the unique "rose" and "Love" shots and appreciated the creativity he brought to our ceremony and reception. You will not be disappointed having Michel memorialize your event which passes much too quickly. Thankfully we have some amazing photos that give us a perspective outside of the wedding day blur.
King Street Photo Weddings responded with the following comments:
Joanne & Mark,Wow, thank you so very much. Today, I have accomplished my biggest success in my wedding photography career and you made it that much better by making it 100 amazing reviews from all of you fantastic caring clients. Your wedding day at your private residence in HHI was spectacular, with a Low Country wedding charm, having your ceremony at the beach and then having Palmetto Dunes cater your event was perfect. Your close family and friends really enjoyed the wedding in what I consider to be a mansion.
Thank you, thank you, so very much your review will never be forgotten it really has made my heart happy. All I ever want for my clients in this continuous happiness of making the right investment and decision for a wedding photographer to do their very best and always going above and beyond the clients needs.
My very best and God bless,
Michel
Wedding: 7/2/2016
Services Used: Photography
Reviewed On: 7//7//2016
5.0 Lindsie said... We booked Michel over a year in advance and our wedding was just this past week, on 6/18/2016. We had an amazing experience from start to finish. He was always available for our random questions, provided us with endless helpful recommendations, and did so much more than I ever would have expected a photographer to do. He helped us make a precise schedule for the day of the wedding and ensured us that he would take care of all of the little details (and the crazy personalities in our bridal party!). We have only seen sneak peaks of our photos but I am sure that they will be amazing. Big thanks again Michel! I would highly recommend him to anyone looking for a professional (and FUN!) photographer who clearly has his profession down to a science.
King Street Photo Weddings responded with the following comments:
Aww, what a great review. Thank you so much Lindsie & Jeremy, you all are such fantastic caring clients. Your wedding day turned out perfect the images are spectacular. You both are full of energy, your family and you all always caring about me that I kept on being hydrated because it was so hot about 98 degrees. It was nice to see that Jeremy enjoys working out has much as I do and that is one of the main reason I stay in shape. Having 3 cameras and various lenses on me for about a minimum of 6 to 8 hrs, a total of 60 pounds of gear, along with extra batteries and anything I need immediately can be very heavy at times. My wedding photography and having the proper lens and equipment at that specific time is why I carry it all.
Thank you so very much for the business, honor and trust, I am always very appreciative.
Michel Berda
Wedding: 6//18/2016
Services Used: Photography
Reviewed On: 6/26/2016
5.0 Shelley said...Michel Berda of www.kingstreeetphotoweddings.com exceeded our expectations as our wedding photographer! Our wedding was just three days ago and I have already had the opportunity to see a couple of "sneak peak" photos. With only two photos, I am confident in writing this review that I will absolutely love the rest. They were that amazing! There were quite a few things that went wrong on our wedding day with our venue, but Michel worked through everything and went above and beyond to capture wonderful photos. He literally traveled all through Palmetto Dunes to make sure we had the photos we wanted. I thought that having a very large wedding party (9 bridesmaids, 9 groomsmen, 5 kids) would scare photographers away, but when I first talked to Michel, he was excited to work with such a large group. He was very friendly, personable, and made wedding photos fun (even for all of those guys!). I would highly recommend King Street Photography to anyone.
Michel, you helped make our wedding day special and will give us photos that will never let us forget that. Thank you, Thank you, Thank you for everything you did that day! We look forward to seeing the rest of our day! :)
Shelley and Kevin Kustes
6/3/16 Palmetto Dunes, Hilton Head
King Street Photo Weddings responded with the following comments:
Wow, Shelley & Kevin, you all traveled all the way from Kentucky, to have the perfect wedding. I am always more than happy to do anything I can to make sure that when clients have a destination wedding here in our lovely State Of South Carolina, they receive just that. Yes, I helped you all with the perfect timeline and yes there were many locations to travel to and from, and lovely children and great bridal party and the perfect best man & maid of honor who helped so much, please thank them. My goal was to create what you all invested in a wedding photographer that would meet and exceed your expectation. Reading this review actually gave me tears, because I am so glad that you felt that way. just exactly what I wanted for you all. God bless you both and thank you once again for posting this honest and truthful review from your heart. I am and will always be grateful to you both.
Wedding: 6/3/2016
Services Used: Photography
Reviewed On: 6/6/2016
5.0 Daniel said...Finding the right photographer is both intimidating and challenging. I am so grateful that we followed our intuitions after seeing the work and speaking with Michel Berda, Of kingstreetphotoweddings.com. I still remember the first conversation with him and the professionalism and passion he has wedding photography. He is professional by setting expectations for the event to help his capture as many wonderful moments as possible. He helped my wife create a wedding timeline and set any expectations for photos beforehand. He stayed in contact with us which helped ease our stress level before the big day. He showed up to the venue nearly 2 hours ahead of schedule to Capture all the priceless moments from our big day. My family all enjoyed his presence at the venue and love his work and professionalism. They all can't stop raving about how wonderful he was. We can't speak enough great words about Michel Berda and his passion for wedding photography. He went above and beyond when the weather wasn't cooperating and exceeded our expectations! He even provided us with a teaser photo within 24hours! I would strongly encourage you to check out his work if you are looking to capture beautiful pictures of your special day! Michel is a caring, trustworthy, professional, enthusiastic artist that will provide you with an above and beyond experience!!
King Street Photo Weddings responded with the following comments:
Awe Kari & Daniel, I always say this to all that future wedding vendors that always ask me about why I receive so many and such lovely, honest, and always grateful wedding clients reviews. I tell them it is very simple if you follow these rules "Give your clients your 1000% percent, respect your clients and listen to every needs they have, give them the confidence and your experience and helpful tips to make their day that much more special, and last, be always very thankful to them for the business and the honor they give you to capture one of the most important days of their lives"
I am very touched and humbled to have you post this review for me. You are truly beautiful people inside and out. Thank you for everything.
Wedding: 5//20/2016
Services Used: Photography
Reviewed On: 5/29/2016
King Street Photo Weddings Charleston Wedding Photographer The Knot Reviews
4.9 ***** (38)Reviews The Knot
*****Reviewed on 2/08/2018 Beth M
Generous with both his time and talent, Michel will go above and beyond to capture a beautiful day in the life of both the couple and their families. Michel's attention to detail, professionalism and passion for his craft make him an easy choice for your special day. Michel will arm you with all the information that you will need to assist him in telling your unique story. By asking the right questions and getting to know what is important to you he will deliver on his promise to provide you with unforgettable moments that will take your breath away. Our daughter was living out of town but planned on a "hometown" Charleston wedding. As the "mother of the bride" I was merely the conduit, it could have been stressful but it wasn't with the help of true professionals like Michel Berda who not only captured a perfect day, but also helped to make it perfect. Thank you again Michel for your time, your talent and your expertise. I look forward to sharing your beautiful images with our family and friends.
2018-02-09T09:38:48 Response from the vendor
Awe what a great heartfelt review from such a great mom. It was totally my pleasure and honor to capture your daughter and now son in law Amanda & Kyle wedding at the beautiful The Pavilion at Pepper Plantation. It was a beautiful wedding and while the weather did not cooperate very well when it came to family photos, I am very sure you were so glad I brought my very expensive and great studio lighting to me the family photos are spectacular and would not have been accomplished if I did not have this great back up equipment. All & all I strive to exceed and give every single client my very best and as I advised to you all I am so very glad that you took me up on my recommendation as to letting me capture the pre photos. I am sure Amanda is looking back at these amazing photos of you and her and dad seeing her in the amazing wedding dress for the first time. Lots of emotion all captured for many generations for you all to share.
***** Reviewed on 11/11/2017 Ryan D
There aren't enough good things that I can say about Michel's commitment and passion for capturing images at a wedding. We were married in Hilton Head on October 14th on fairly short notice but still had a thorough wedding time-line, pre-wedding conference calls, etc all prepared and initiated by Michel. I can confidently say that there is not a more prepared photographer out there. I believe that one of the keys to feeling comfortable with a wedding vendor is feeling like they truly care about you and the product that they product for you. Again, Michel gets 10's across the board in that regard from both of us. Last, I believe that there are photographers and then there are photographers that are also artists and Michel certainly falls in the latter category. While his commitment and passion are incredible, his talents are as well. Looking through his images truly tell a story about our wedding day and put us back in the moment. We have been thrilled with all of the pictures produced and consider ourselves beyond fortunate to have found Michel and would encourage anyone else that has the opportunity to use his services as well. Thanks, Michel!!!
2017-11-12T09:26:25 Response from the vendor
Ryan, what can I say but thank you for this heartfelt review coming from you the groom. With the devastation from hurricane Maria and your wedding venue in Puerto Rico, 3 weeks before your wedding day, I knew when you gave me this huge honor to capture your wedding that I would make very sure that I would take that unfortunate situation and create amazing wedding images for you both, in your new venue at The Hilton Head Marriott Resort. Benita and you are such great caring individuals, and I am so very glad that I was able to create artistic wedding images that you will cherish and hold in your memories of how a caring master wedding photographer did everything he could to make your magical day that much more special. I am grateful and very thankful for your amazing review. Thank you once again.
***** Reviewed on 11/08/2017 Emily F
We were so pleased with our decision to hire Michel Berda with King Street Photo Weddings to capture our wedding day! From the initial consultation, to numerous emails, to the big day, Michel was very attentive to every detail and made sure we had the best day possible! His professionalism, knowledge of his craft, and passion are evident with everything Michel does. We were very confident in our decision to hire Michel, because we could see his dedication to his work when we met for the initial consultation and were able to view his previous work. Michel was able to provide a timeline for the day, which helped so much! Everywhere I looked that day, Michel was there! It is truly amazing how he is able to capture all the big moments that happened. We got married on the beach, and the sunset was gorgeous that night! Michel knew exactly what needed to be done to ensure we got the best pictures and lighting possible. He was able to work with our group to ensure we got all the pictures we wanted for the day. I seriously can not say enough positive things about Michel. I would recommend him to everyone I know, and will definitely be using him in the future!! Thank you Michel for everything you did to help us remember our big day!!
2017-11-09T12:33:28 Response from the vendor
I am touched and humbled and very grateful for your generous amazing review. From the bottom of my heart thank you for posting this incredible review for me. Both you Emily & Matt are super nice people. I am so glad I met you Emily at this year wedding show and that your lovely mother Emily remembered me and that you both chose to have me capture your amazing wedding. I am also glad that you and Matt came for the initial consultation and that I met Matt who is a fellow lighting master in the movie industry. We has image makers and filmmakers really appreciate each other talent for the art. Once again thank you so very much for taking your precious time to post this review.
Reviewed on 10/23/2017 Erin B
My husband and I had our dream wedding in Hilton Head Island, SC and we hired Michel as our photographer. We spoke several times before the wedding and he really took the time to speak with us and learn about our big day. He created an incredible timeline that I used as a basis for all of my vendors - extremely helpful! He arrived on the day very prepared and on time. Michel also had some great ideas for photos that were really unique. For example, we did a "first look" with my dad. It was really special and my dad loved being a part of the moment. Thanks to Michel for being so organized and capturing our special day.
***** 2017-10-23T18:03:32 Response from the vendor
Thank you, Erin & Michael, this is such a very nice review. I am so glad you loved the wedding timeline I created for you all, the first look with your dad was very heartfelt and so glad you did it, as a father myself of two amazing daughters, I could not imagine anything more meaningful, also that you loved the wedding images that I captured for you all. Here it is only 15 days from your wedding day and you got featured on my blog where you really got a great feel for my passion for the art of wedding photography. I really enjoyed you both your family and friends thank you once again for the honor and trust your wedding was beautiful. I am and always will be very grateful.
***** Reviewed on 8/28/2017
Michel is the epitome of a professional photographer. His communication, planning, and event execution were outstanding, and I don't think anyone else could have done a better job. On top of all of that, I've never seen a wedding photographer work as hard as Michel did the day of our wedding and the results showed!
2017-08-29T09:31:59 Response from the vendor
I love all of you clients and I really appreciate not only the honor to capture your day, the business you give me and then this amazing review. Thank you so very much for taking the time to post this incredible wedding. I am very grateful.
***** Reviewed on 8/27/2017 jeannette
It was great working with Michel. He was very professional and detail oriented. He took some amazing sunset photos of my wife and I. We are very happy!
2017-08-28T11:07:36 Response from the vendor
Awe Christian, thank you for your review I am so glad you and your wife Jeanette loved how I created amazing wedding photography for you all. I enjoyed meeting you both and wish you a fantastic life together. Thank you for choosing King Street Photo Weddings to capture your day it was a huge honor. Michel Berda
King Street Photo Weddings Charleston Wedding Photographer Yelp Review
Yelp Review Left On 5/12/2014
This was one of the few times that i didn't check yelp before I ate somewhere or bought a service. However, while I usually find myself regretting that decision, in this case I am very glad we didn't look on here beforehand. I have read all the reviews now and to be completely honest, most of them sound 31 flavors of crazy.

Here is the criteria that we based our rating on when deciding between 4 or 5 stars. We looked for beautiful pictures, responsiveness (email and by phone as well as pre and post wedding), meet promises, cost, and overall attitude at the wedding. We did not judge his handwriting or grammar.

Overall Michel was very easy to deal with. Yes he is going to demand stuff from you like, who you want in photos. He also is going to set a time schedule for you and where and when he needs everyone at which place. Trust us, you will need/want that on your wedding day because you only have him for so long, it's in your best interest. Michel does an amazing job of keeping things on schedule and gathering up even your rowdy groomsman.

Everyone seemed to complain about how long it takes to get the photos back on here. He set expectations from before we even cut him the first check. We knew what time frame to expect everything and thus far he has met or exceeded his original estimates. I have a feeling the friendlier you are with him, the more willing he is to get your beautiful photos to you quicker.

In the end, ultimately it is all about the photos and he truly takes some gorgeous shots. We looked at a lot of different photographers and to be honest, his looked 10 times better than anyone else's and we would absolutely book him again.
Alex J, 29464 Categories: Photography
Wedding Planning Services Performed: Yes* More Weight is given to a review where work has been completed.Work Completed Date: March 01, 2015
Hire Again: Yes. Description Of Work: Engagement and Wedding photos. Photo Editing. Wedding schedule planning. Guidance on day-of time management.Member
Comments: Michel is a professional at his craft and loves the work he does. He is very friendly, very organized, followed up regularly, took charge of coordinating with vendors, and most importantly guided & led us to stay on schedule. THIS IS SO, SO, SO, IMPORTANT. We did not realize how much minutes matter, especially in a late afternoon wedding (when the entire wedding only lasts a few hours...). You are pulled in every direction, and trying to greet both family and close friends, and the time simply disappears. Michel prepped us for this, prepared a meticulous schedule & list for photos, and stuck to it. I think that if we had a photographer who was more casual, we would not have gotten half the great photos we did (with the sun setting so fast). Also, on the wedding day, we received countless compliments about how Michel 'obviously knew what he was doing,' guiding the wedding party into poses that were both creative and memorable. We learned (through prior experience) that everyone 'can be a photographer," so be careful. Just b/c they have a camera Doesn't make them a photographer - especially for your special event. Photography really is Mr. Berda's passion, and his quality product reflects that. He is also fairly structured, so if you want loosey goosey, make sure to discuss that on the front end. For us, that structure gave us fantastic results. Would use him again, and would recommend to friends/family. (Oh, and we had some craazy family--He was great & very patient with them all!) Love the photos!
Share on Band of Neighbors: Yes
Company Response: Wow, Just you all giving me the honor and pleasure to capture the engagement and your wedding for you all was really appreciated. Having this review from you and describing me as a wedding photographer in Charleston, South Carolina, that give every clients his 1000% is even more appreciated. Thank you for being such great clients, and now friends. I am so thankful for you all.
My Very Best Always,

Michel