Charleston Wedding Photographers
The most recognized commissioned published image-maker, storyteller, wedding photographer in Charleston, SC for his clients, experiences, photographs, albums & impeccable services, celebrating capturing over 525 weddings for the past 20 years.
"Your wedding images are only as good as the experience that storyteller has in the craft of documenting the art of wedding photography, by capturing the emotion & those special moments, to create those unique, lifetime wedding images. You must capture them from your heart & soul for them to be meaningful."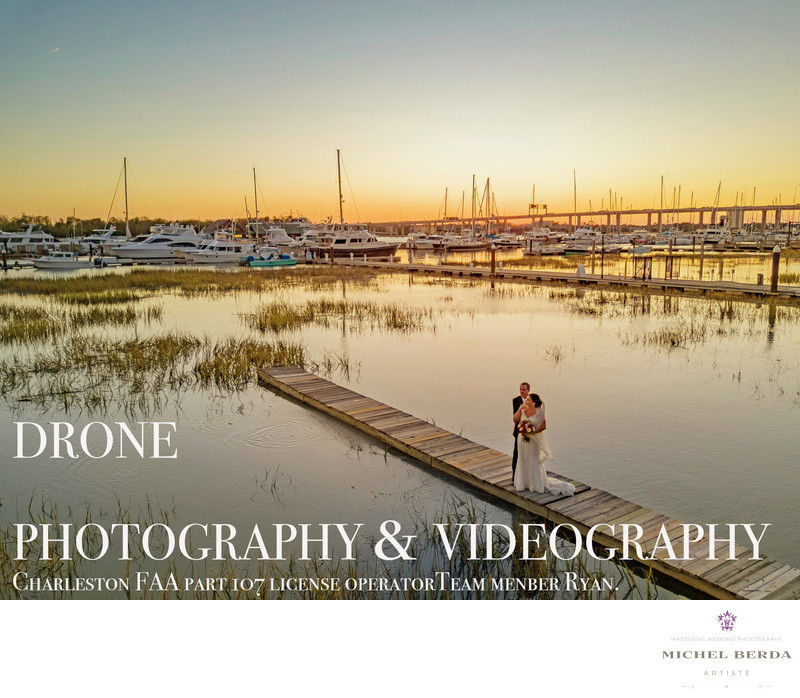 Welcome to King Street Photo Weddings, owned by Michel Berda , who is considered one of the best Charleston, wedding photographers. Michel has devoted himself to being a Charleston wedding photographer in South Carolina for over 19 years. He specializes in documentary, (unposed as the moment happens ) timeless, dreamy, artistic, wedding photography. Michel is also a lighting master providing you with very artistic timeless wedding images.
" wedding photographers that capture mostly in ambient light (during natural light or the luxury of God light & the golden-hour ) will soon become a thing of the past, being that millennials today are more educated & realize that their PDA can do just the same. They are in search of wedding photographers that can create lighting under any circumstance, at any time. This requires a certain skill set and most of the time a master photographer with decades of experience and a true understanding to create those exemplary lighting diagrams under any scenario."
He started his photography career as a part-time job in a photography store while attending high school in Hawaii, back in 1976. In this time he was taught the fundamentals of film, developing, chemistry, photography equipment, lighting, and all other aspects of photography. Upon graduating from high school in 1980, he moved to Los Angeles, California, to follow his passion by working in a photography store. He also pursued a part-time job learning from the top LA fashion professional photographer by assisting them as an apprentice. Michel then decided to move to Myrtle Beach, SC, after visiting a coworker that had family who owned a photographic store there. In 1989, Michel was fortunate to move to this amazing city of Charleston, South Carolina, by pursuing his photography career operating the most well-known photographic retail stores on King Street, called King Street Photo and one on Market Street. As the wedding industry grew quickly in Charleston, SC Michel found himself capturing weddings on weekends, very soon after that King Street Photo Weddings was born, Michel became part of the Charleston wedding photographers by offering his clients all the aspects of wedding photography, bridal dress fitting, bridal portraits, and engagement photos, boudoir. He has also been commissioned to capture fashion, editorial photography, lifestyle, family portraits, and corporate events.
Michel is a brilliant wedding photographer being seamless and unobtrusive, a true storyteller which is a skill not easily attained. A statement his clients, family, friends, and peers make all the time he has been blessed to have captured over 500 weddings thus far, working with some of the best; venues, plantations, hotels, and vendors in this wedding industry of Charleston, SC. There is no doubt he has a gifted talent by capturing lifetime memories, with the ability to be an album designer and artisan most wedding clients have passed that down from generation to generation, leaving his clients with documented legacies. When you commission Michel as a wedding photographer in Charleston, South Carolina, you invest with the well-established brand of King Street Photo Weddings. An investment that Michel, makes very sure you receive beyond your expectations this is what has set him apart from the rest of the Charleston wedding photographers.
Wedding Photographers In Charleston
Serving Charleston, Kiawah, Mount Pleasant, James Island, Sullivan Island, Isle Of Palms, Folly Beach, Summerville, and all of the Charleston metropolitan area. Known as the Tri-County.
If you are searching for any Wedding Photographers in Charleston, SC that has captured weddings in all or any of these beautiful locations then you may want to consider commissioning and giving the honor to King Street Photo Weddings this is the perfect wedding company for you. If your wedding is taking place anywhere in the area of the Tri-County, I will deliver the best and most compelling wedding images showcasing why you loved having your wedding in this historic Holy City.
I am ready to give you any helping hand I can with your wedding, including unlimited phone conferences, emails, questions you may have about timelines, maybe a walk through the venue to give you some great ideas for the images you may want to be captured there and why you picked this venue. I am here to provide you with the most resourceful wedding planning guides and any more information you may need to make your wedding in Charleston, SC that much better.
I can also provide you with many local vendors information you may need such as florists, wedding coordinators, DJ bands, the best place to stay, amazing glam hotels, and everything to make your special day that much more dreamy. Contact us.
Reviews and Press
One of his greatest accomplishment is being published by these national publications: Carolina Bride South Carolina, Charleston Wedding Magazine, The Knot Real Weddings, Destination Wedding & Honeymoon, Studio Design, Grace Ormonde, Weddings Unveiled, and Destination Weddings & Honeymoon, and Charleston Style & Design, both Spring and Winter issue, as well in numerous national blogs. In addition to all of this as a Wedding Photographer in Charleston, SC, his main objective to his branding has always been to give every single client impeccable service, thus resulting in the highest most glowing wedding photography reviews on the internet. Starting with The Knot with 54 reviews, 69 Google reviews, Wedding Wire with an impressive 120 reviews. He is also honored to be the recipient of The Knot, Best Of Weddings for 2015 and 2018 pick awards, Wedding Wire Couple's Choice awards for 2015, 2016, 2017. He is now the recipient of the Wedding Wire Black Badge that showcases positive newlywed 5 stars reviews, it puts King Street Photo Weddings as one of the highest-rated photographers by couples who acknowledge and applaud the top elite, Charleston Wedding Photographers.
Destination Weddings
Michel has been commissioned as a destination wedding photographer by having the knowledge and experience of capturing wedding photography at some of the most beautiful venues, plantations, hotels, and resorts. This has led him to have traveled nationally and internationally to provide his Artiste wedding photography services to the following destinations: Hilton Head, SC, New York, Miami, FL, Atlanta, GA, North Carolina, South Carolina, Los Angeles, CA, San Francisco, CA, Hawaii, and The Bahamas. You can rest assure and feel confident that if you're having a wedding here in Charleston, SC, or a destination wedding with all of his experience and dedication for the art of wedding photography, that you will receive total satisfaction and impeccable service for your wedding. Michel has truly become part of the best wedding photographers.

Resources For Wedding Couples
Join me on Instagram where I share my artistry & adventures daily
@kingstphoto1
King Street Photo Weddings
310 King Street, Suite B
Charleston, SC, 29401

(843) 810-6698
Email: kingstphoto1@bellsouth.net

Let's Connect