ABOUT ME Michel Berda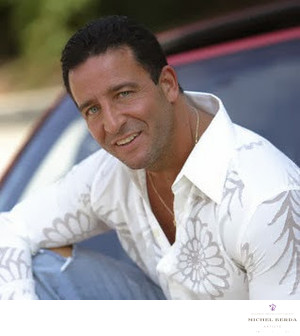 I am happy and honored to say that I am a wedding photographer, a true storyteller in our Holy City of Charleston, SC. Every client wedding is different for me. Each has the same purpose of unity, however documenting this day by capturing it with my very artistic side is what makes me different than most Charleston, SC wedding photographers. It is the connection between the story and the wedding images, the artistry, the quality not quantity, the romance, the love, the relationship between the heart of the image maker and the camera, the want to create a lifetime of so memorable compelling wedding images that they will cherish forever.
People ask me all the time, what do you do for a living? I respond I own King Street Photo Weddings, I am so blessed and honored to be an image maker, I capture joyful, emotional, happy people at weddings, for all of my fantastic clients. Of equal joy, I am a very proud and blessed father, being very grateful for having two amazing daughters, Chloe and Courtney.
My love for photography career began at age 16, working for a photographic retail store learning about the actual photography equipment, developing black and white in the darkroom, processing C41 color negatives, clients relations, sales for almost 3 years in Maui, Hawaii. But it was in Los Angeles, California that I truly learned the craft in capturing photography understanding both studio and ambient lighting, also adding strobes for location photography to create those special effects, while assisting as an apprentice with the best fashion and celebrity photographers. I also continue learning at workshops and at trade shows from all of the past and current mentors.
In 1985 I took my craft to South Carolina, first in Myrtle Beach, then Charleston, SC which I have called home for last 31 years! My passion for the art of wedding photography began here in Charleston, SC in 1994 with a small retail photography shop located on King Street called King Street Photo. But only just five years later, I received that memorable phone call, from Tally Attaway, the city's top wedding coordinator planner. She asked me to photograph one of her affluent client weddings – it seems that her client was looking for a wedding photographer that had a fashion style while incorporating the backgrounds memories of this Holy City of ours Charleston SC. I agreed and they adored the results. Shortly after that wedding, I was the busiest wedding photographer in Charleston, SC and had the pleasure of capturing more than 125 wedding in that year alone. Since then, I have incorporated this style of capturing moments into every wedding that I have photographed – taking clients out of the standard studio environment, church or reception to the outdoors of Charleston's historic style and amazing backgrounds.
I remember working with Lex Opoulous, owner of Lowndes Grove Plantation, who was kind enough to list me as the #1 preferred wedding photographer, here in Charleston, SC for his venue (it was also not uncommon for me to photograph four weddings in a single weekend!). I also worked in the Bahamas, with some amazing venues, and photographed celebrities in Atlanta, Charlotte, NC and numerous destinations both here and abroad.
18 great years have gone by, five hundred weddings have been captured by me and this remains my love and passion. I thank every single wedding client of whom have given me this huge honor and privilege to capture their special day. Also, the pleasure of working with the comradery of hundreds of great wedding vendors from across the Lowcountry here in Charleston, South Carolina.
I am delighted to say that I am known by my peers as "One of the best image maker wedding photographers in the world." I am honored that my images have been published in the Knot, Real Wedding, Destination Weddings & Honeymoon, Studio Design, Wedding & Honeymoons, Grace Ormonde, and Wedding Unveiled, Carolina bride, Hilton Head Monthly, Charleston Wedding Magazine, Charleston Style & Design Magazine just to name a few.
Just recently, I received the 2018 pick of The Knot Best Of Weddings that I also received back in 2015 as well. I am also the recipient of the 2011-2015 USCA "Best of Local Business" Award Program which recognizes outstanding local businesses throughout the country. More importantly I have earned by my clients reviews on numerous website including Google, The Knot, Angie's list, Wedding Photo Love, I have also received the highest accomplishment award by the top rated wedding industry company Wedding Wire, besides being the 2015-2017 Couple's Choice Award for my 108 clients reviews, and now The Black Badge Award with my 4.9 glowing star reviews for my impeccable service in wedding photography. Being based in Charleston, SC – the 2nd largest destination wedding on the East Coast, I am grateful for being one of the busiest destination wedding photographers in the USA and abroad.
My greatest asset is that I am type A. Every wedding is so very important to me, that is why I call myself a true wedding photographer professional. Has one you must know your photographic equipment inside and out. On a wedding day, it must perform at its best. Prior to a wedding, I love getting my entire gear checked out, for example, this is my basic routine. On a Thursday, cleaning my equipment. Then on that Friday, charging my batteries and checking my digital cards, all to make very sure that every photography equipment and digital cards are inspected and meticulously tested. Your wedding is only one day, should you not expect this from your wedding photographer?
I am always looking for fresh ideas and learning from my peers for the most trending wedding images to incorporate for my wedding clients special day because, every wedding for me is catered to that client's taste and needs (yes, these clients need to enjoy their day by relaxing while knowing those wedding vendors the team they hired will achieve the results they were looking for. That is the most important part!). Over the years, I have designed a wedding photography timeline that works in helping me capture my client's Magical Day, but doing it in a pleasurable and relaxing way. I know that these are moments that will be cherished for a lifetime. I bring that sense of passion and caring for every wedding.
Thank you so very much for taking the time to read this. I hope and pray that you will give me the honor of being a historian and a storyteller in capturing your magical day, by creating wedding photography images that will be cherished forever through generations and generations. If you would like to get to know me better and see true testimonials from my clients I have designed an incredible YouTube Video enjoy:Let's Connect